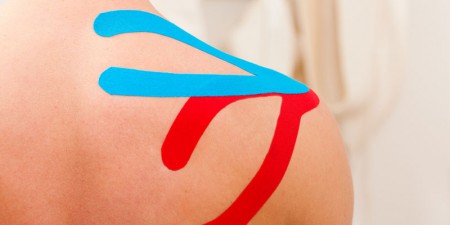 Call us now for free and impartial advice on Kinesiology Taping:
This treatment modality can aid recovery of:
Kinesiology Taping Treatment
Kinesiology Taping
Therapeutic kinesiology tape that can benefit a wide variety of musculoskeletal and sports injuries as well as inflammatory conditions.
Kinesiology tape is a thin, stretchy, elastic cotton strip with an acrylic adhesive and is almost identical to human skin in both thickness and elasticity.
This allows kinesiology tape to be worn without binding, constricting or restriction of your movement. This is ideal for maintaining a normal daily routine whilst getting the support you body needs.
Kinesiology tape often is used for treating athletic injuries and can be used to treat a variety of physical disorders, its a versatile treatment that can help with many different ailments and issues.
Many professional athletes use kinesiology taping to improve their sporting performance, prevent injury and allow them to return to sport quicker. Kinesiology taping allows fluid movement which supports the joints and can be used during performances without compromising you.
You will see people in all fields of sport using this tape as its a world renowned method of dealing with injuries that can work for anyone at any sporting level.
KB Osteopaths have specialised in Kinesiology taping for the best part of 20 years and the team have helped many people with different ailments using this tried and tested method of treatment.
Call our team now to have a chat with us about exactly what your experiencing and we can have a chat to see how we can help you and how Kinesiology taping can benefit you.